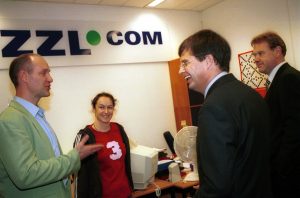 PZZL.com designs all kinds of puzzles for your website, magazine or newspaper, ranging from crossword puzzle to maze. The puzzles are completely tailored to your target group and layout.
PZZL.com is currently run by Peter Ritmeester. Ritmeester was editor at publisher Puzzlesport from 1989 until 1995, when he started his own business Ritmeester Puzzel & Spel. In 2000 he started PZZL.com together with Ellen Goudsmit. In October 2011, after being in office for 12 years, Ritmeester retired as General Secretary of the World Puzzle Federation.
PZZL.com served many clients, both large and small. Since 2007 for instance, we send puzzles to the New York Times. In The Netherlands we had and have clients like NRC Handelsblad, nrc.next, de Volkskrant and dagblad Trouw. See a list of our past and current clients.